Survival Hardware specializes in providing hand-crafted survival gear to customers who value the ancient arts of steel and leather craftsmanship. The family-owned company recently raised its flag to declare for House Morningwood, which means it is now a part of our Tactical Buyers Club. Lucky for us!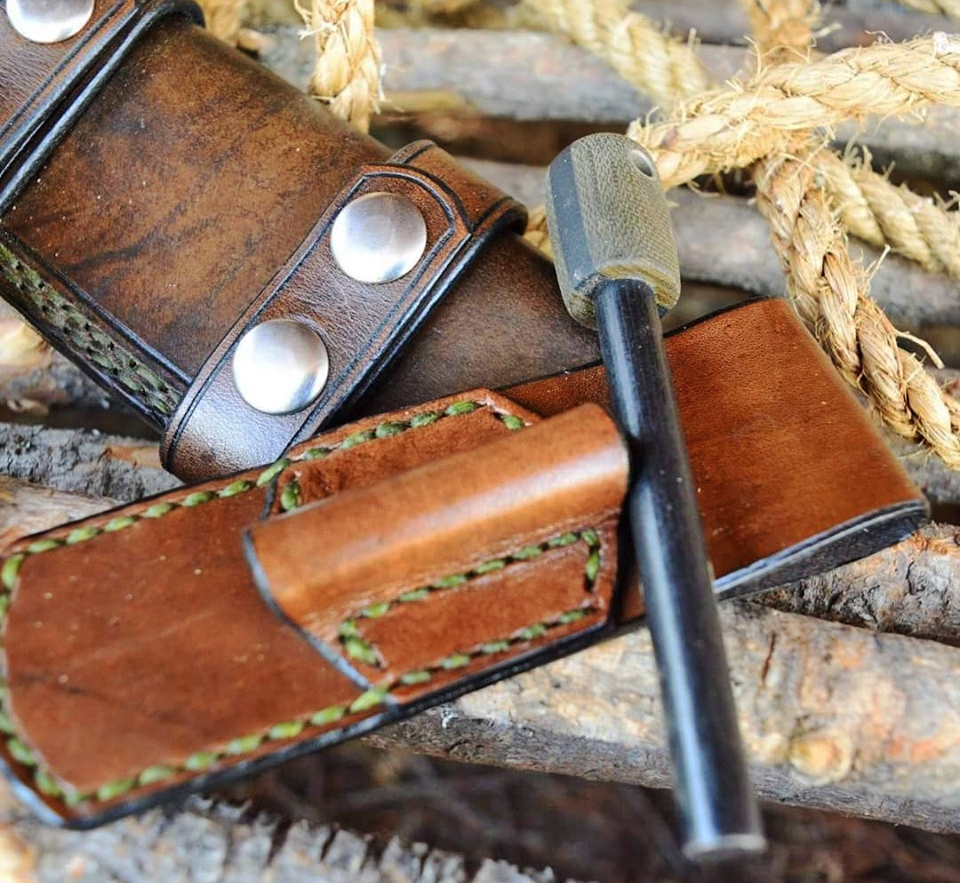 Survival Gear Infused with Knowledge and Skill
Retired USMC Gunny David "Norseman" Williams and his wife Angel founded the company years ago after he retired from the U.S. Marine Corps. David's military experience is impressive.  Besides his multiple combat tours in Somalia, Iraq, and Afghanistan, he was an instructor for Scout Sniping, Combat Tracking, Mountain Survival, Primary Marksmanship, International SERE, and Motorcycle. He was also a Winter and Summer Mountain Leader. And he is a machinist, graduated from "Royal Tine" big-game hunting guide and packing school. David and Angel both graduated from the  "Montana Horseman" saddle building school.
With all of that training, imagine the skill and knowledge that goes into each piece of survival gear he manufactures for his customers. Honestly, it's a little staggering. And get this, he's a part of our club! Oh, yeah.
Let's take a quick look at their offerings, but you can look at the entire store at the Survival Hardware website.
Steel
Survival Hardware offers two fire-strikers, both designed in the shape of Thor's hammer.
In Norse mythology, Thor is the protector of mankind. His hammer—Mjölnir—is one of the most powerful weapons in existence, capable of leveling mountains. So it makes sense to have a badass fire-striker that looks like Thor's hammer hanging around your neck, doesn't it? Notice the fluid dark and light pattern throughout the piece, which marks its construction from valuable Damascus steel.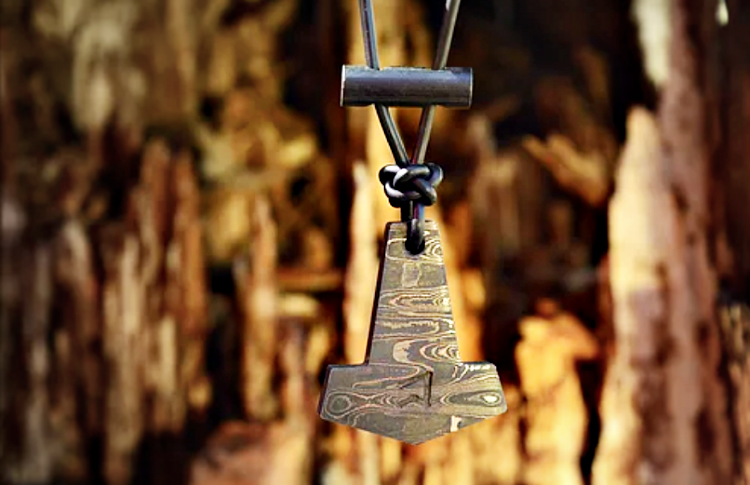 Each Mjolnir comes on a black PVC lanyard with a Ferro Toggle and weighs 1oz. Carry this striker around your neck, and you'll always be able to make fire when you need it.
Leather
Survival Hardware has an assortment of custom made leather gear available. Take a look at the store and you'll find
Several knife sheaths
Tobacco pouches
Various styles of wallets
Spice kits
Journal/notepad covers
Key fobbits
Java sleeves
Even a leather koozy
And – Well, Maybe Not Survival Gear, but This Piece Carved from Bone is F**king Awesome.
For the survivalist who values rare pieces of craftsmanship, Survival Hardware features this hand-carved Viking Drinking horn. A Viking warrior is carved into the exterior of the horn. He is wielding an ax and shield as if he is ready to claim Herløv—that's a Norse word, meaning "praise gained in war" or "a sign of victory, a trophy."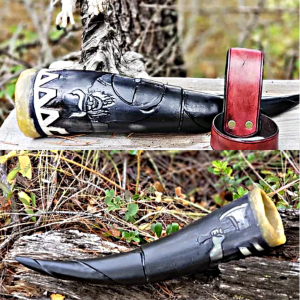 The lip of the horn is tooled with a band and  a spiraling groove is etched down to the tip. This piece comes with a hand-made leather belt loop which is waxed with natural beeswax.
Survival Hardware Stays Social
Follow them on Instagram, Pinterest, Twitter, and Facebook.
You can also follow Dave Williams, a.k.a. Dave the Norseman on his YouTube channel. To date, he has 17 playlists, covering all kinds of survival training and skill.