House Ghostgrey (you may know them as Grey Ghost Gear and Grey Ghost Precision) have declared for House Morningwood. They were among the very first to answer when we called the banners.
Grey Ghost Precision offers 25% off everything they make to Patreon backers who are at the Knight level.
Grey Ghost Gear offers 40% off everything they make to all Patreon backers of Bastard Knight level or higher.
Think about that, now. A  GGP MKII Heavy .308 WIN retails for $2,500.
You do the math.
Take me to news of House Ghostgrey.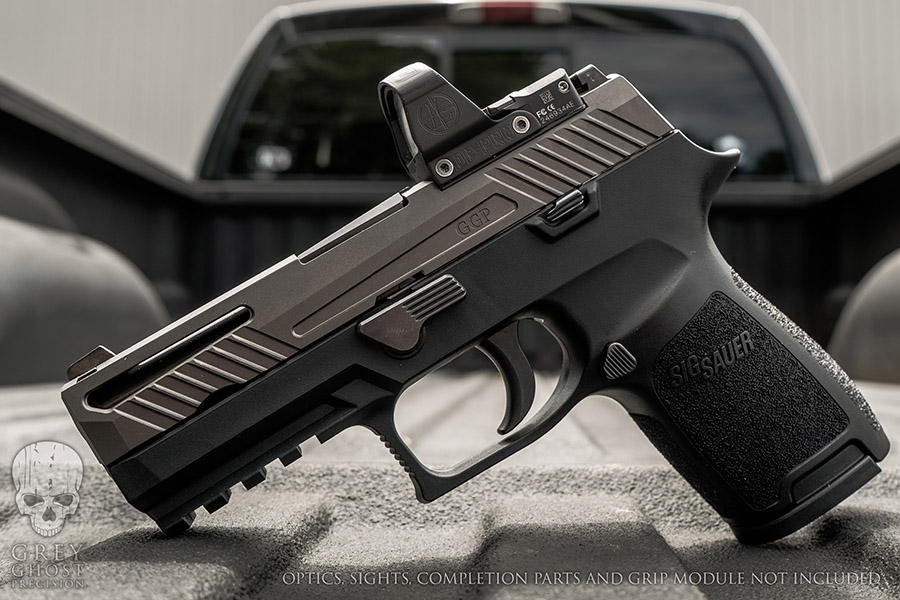 This article was originally published April 2018 with numerous updates since then.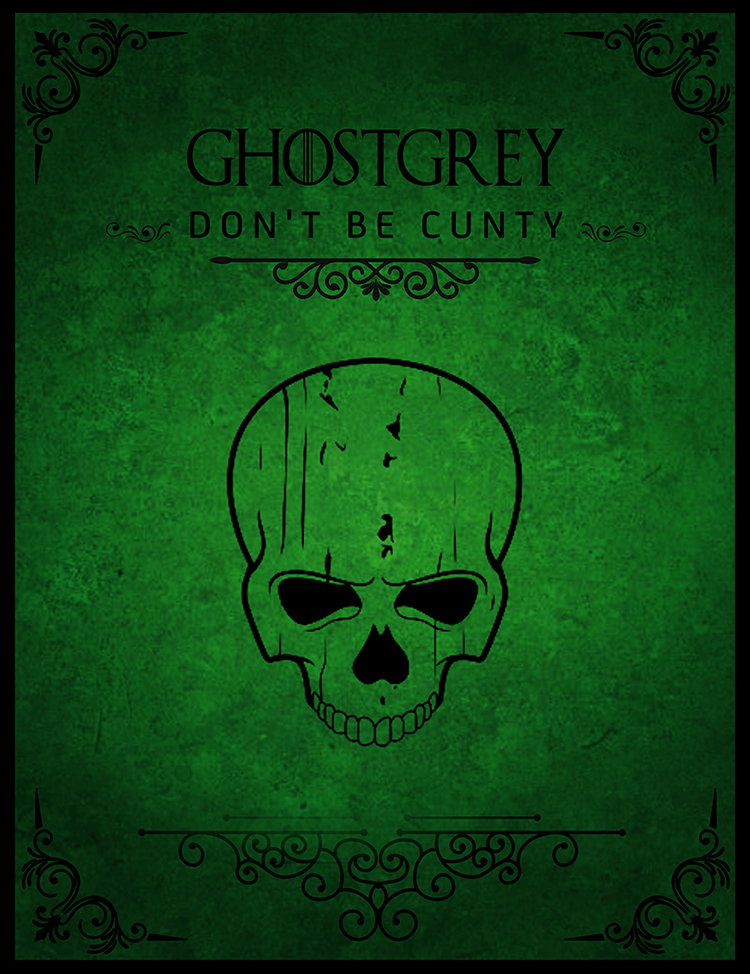 Long live House Ghostgrey!
News from House Ghostgrey
Grey Ghost Precision and Grey Ghost Gear
SIGnificant developments for the P320: GGP320!
The renowned weaponsmiths of House Ghostgrey have sent word of a new aftermarket slide in their lineup: the GGP320, intended to upgrade, upgun, and uplift your SIG P320 (in both compact and full size lengths).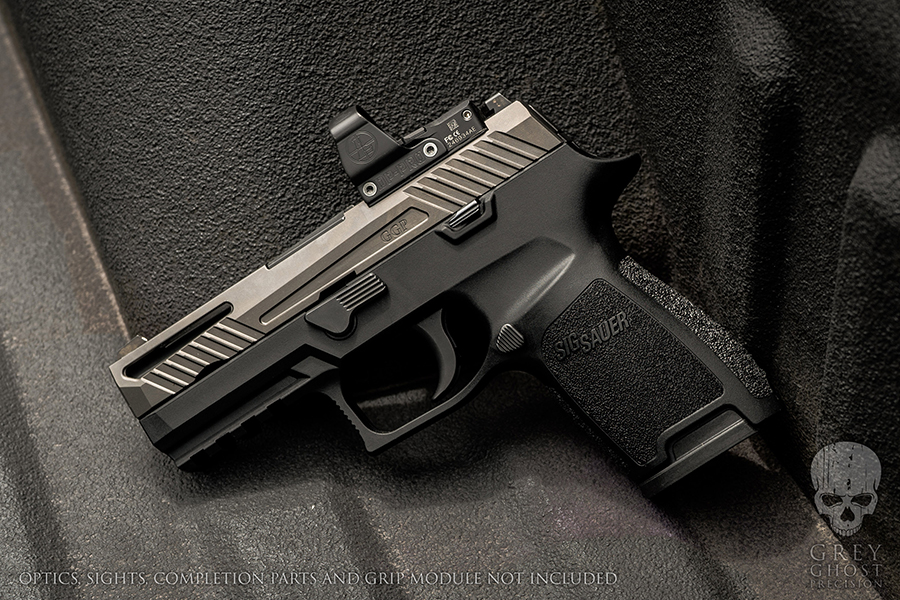 Ghostgrey adjusted fire to the P320, as usual, because they are an end-user focused company. When that weapon won the United States Military Modular Handgun System Tourney, the M17 and M18 (P320 MHS variants) brought a new level of modularity to all of Uncle Sam's sworn swords – and many of those in the constabulary as well!
The P320's ability to be custom tailored to the individual user's preferences in grip length, grip size, as well as slide length and sight radius are highly desirable options. By offering GGP320 aftermarket slides with a special twist, GGP is giving P320 users another level of customization with measurable results.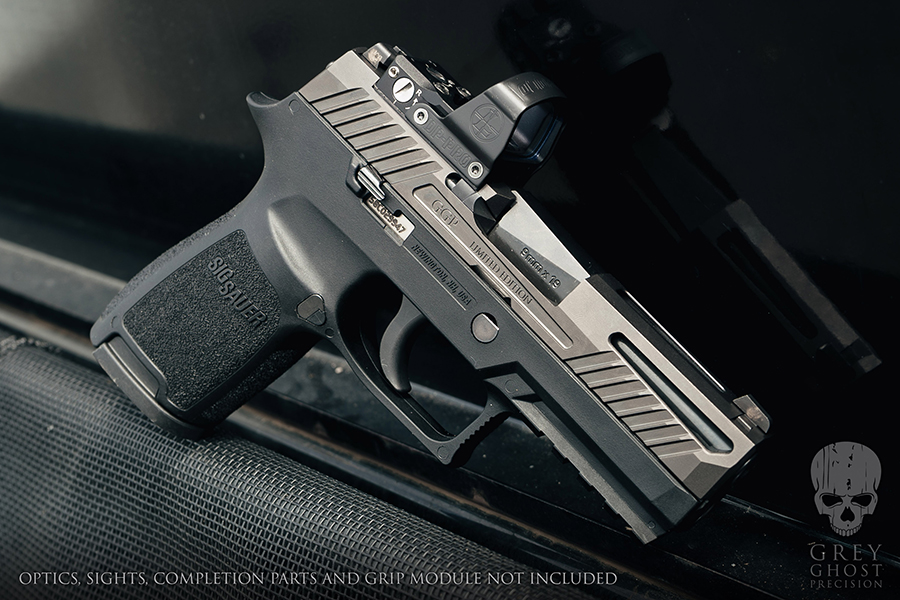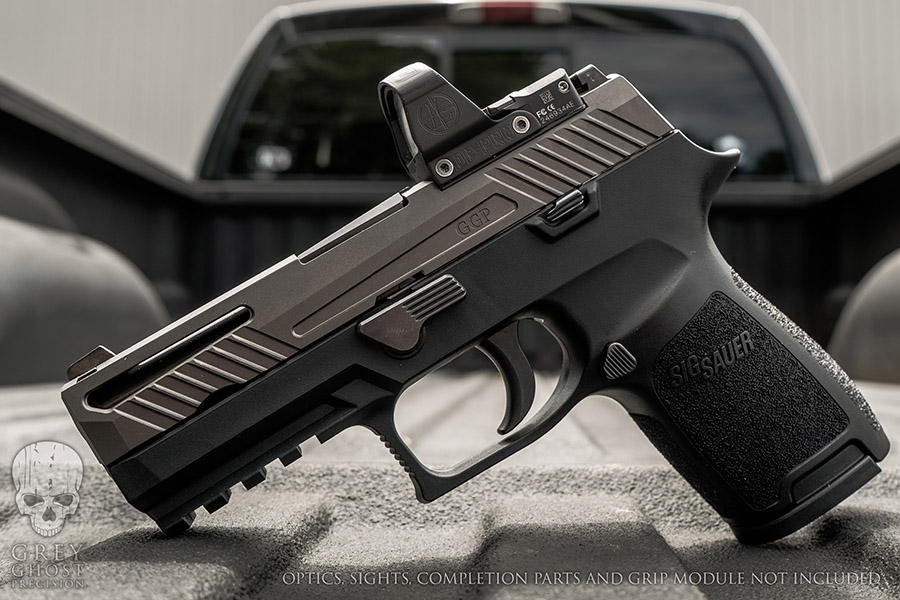 House Ghostgrey's Lord Curns tells us,
"We are getting more requests from LE officers, DOD agents and professional door kickers that have been issued the newly adopted P320 platform. Some were already using our slides on their issued Glocks, but are now being issued the P320. So, they came back to us and asked for an aftermarket solution that fills their individual needs and requirements for their new sidearm."
Apparently, the first request that GGP received apparentlpertained to optics. Some users specifically wanted to use their preferred brand of MRDS optic on their P320, and not be limited to the SIG ROMEO1. Fortunately, GGP had already been down this road. You may recall that GGP engineered a hybrid MRDS optic footprint that simultaneously worked with both the Trijicon RMR or the slightly larger Leupold DeltaPoint Pro; two MRDS platforms that have a proven track record with firearms instructors and red dot users on the streets and on the sand. This dual compatibility optic cut is still featured in the GGP Combat Pistol line as well as the Version 3 and 4 of their GGP19/17 slides, all without the need for bulky adapter plates that raise the optic above the bore axis. GGP brought this same solution to the GGP320 design with the addition of a third box to check: the SIG ROMEO1. You read that right, the GGP320 slide works with the RMR, DPP, and ROMEO1 right out of the box.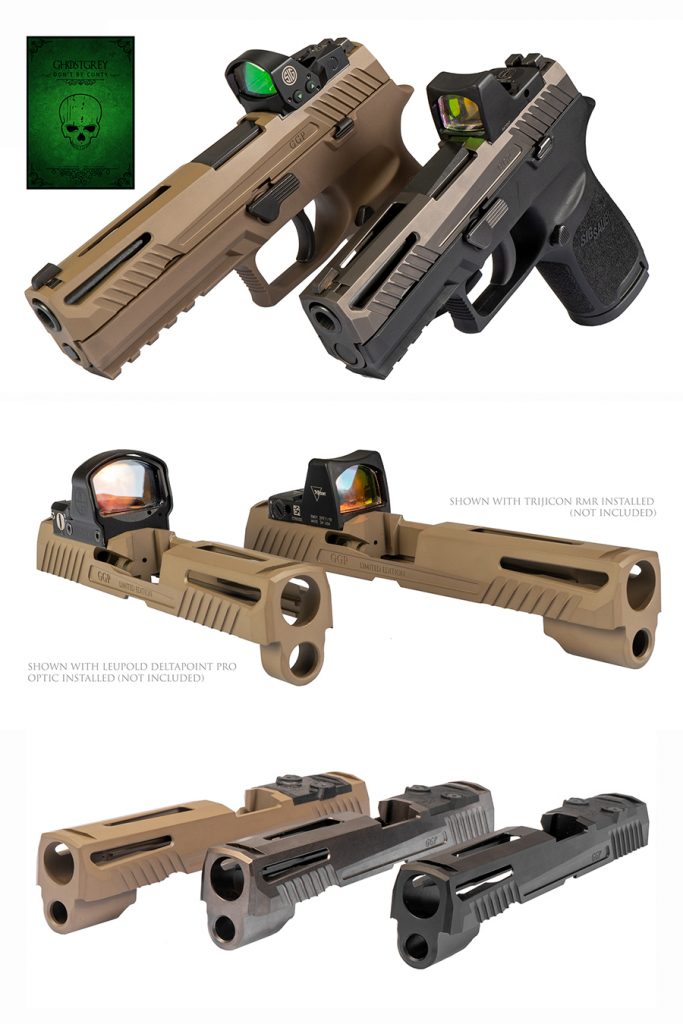 Curns, who had either been drinking heavily when we spoke to him or had taken a warhammer hit to the head, was still talking.
"Just like our GGP17/19 and SPG43 slides, these GGP320 slides will offer an affordable and attainable option for online shoppers as well as dealers. Forget sending your P320 OEM slide in for costly modification at lengthy lead times, not to mention possibly scrapping your slide if the job isn't done right. We were able to lighten the slide with aesthetic features, increase grip serrations and improve the coating without compromising function…. its a drop-in install and comes with all the enhancements that professional handgun shooters have come to expect from us."
As for the aesthetic of GGP320 Version 1, the serrations have been cut with a gradual taper that gets deeper as it progresses up the slide. This machining technique was featured on the GGP17/19 Version 3 slide and has proven to be both cap-worthy and functional. It provides the shooter with a more aggressive grip near the top of the slide for press checks and malfunction clearing drills, without interfering or compromising the material thickness of the slide's rails. The top of the GGP320 features a window cut for weight balance, without allowing the ingress of large foreign debris to enter the slide. The Version 1 will be available in both compact and full length, as well as in either DLC or Cerakote finish.
Curns and his artisans chose Diamond-Like Coating (DLC) to finish their pistol slides, he says, because of its inherent lubricity (something it shares with many of our favorite strumpets) and resistance to wear over time (also like several of our most beloved harlots). In this case, however, they opted to offer a Cerakote option to better match the color and appearance of the M17 and M18 issued pistol frames.
GGP320 SPECS
-Machined from 416 Stainless Steel for tighter-than-factory-tolerances
-Available is Black and Grey DLC (Diamond Like Coating) or FDE Cerakote
-Compatibility with Leupold DPP, Trijicon RMR and SIG Romeo1 with supplied screws and shim plates
-Version 1 Slide Pattern with tapered depth serrations for varying aggressiveness from top to bottom
-Compatible with SIG P320 Full/Carry/Compact Grip Modules
-MSRP $418.95 GGP320 Compact and $429.99 GGP320 Full-Size
-Preorder: GGP320 slides will be released by end of August 2019: www.greyghostprecision.com/ggp320-slides
Remember that GGP is a part of the House Morning Wood buyers club. Read more about the weapon itself online in this collection of SIG P320 reviews.